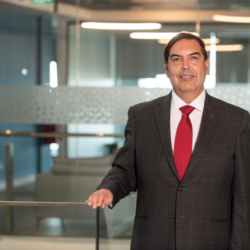 Juan Carlos Olmedo
Presidente del Consejo Ejecutivo Coordinador Eléctrico Nacional
Juan Carlos Olmedo es Ingeniero civil de industrias con mención Electricidad de la Pontificia Universidad Católica de Chile; MBA de la Universidad Adolfo Ibáñez y un posee un Certificate in Management de la Darden School of Business, University of Virginia, Estados Unidos.
Tiene más de 30 años de experiencia en los mercados de energía e infraestructura de Chile y América Latina con enfoque en regulación y operación de mercados de energía, desarrollo de proyectos de generación y transmisión, innovación energética, energías renovables y adaptación al cambio climático.
En su desarrollo profesional, se ha desempeñado en compañías como Colbún, AES Gener, Grupo Ultramar y en el ámbito académico es profesor del programa de Magister en Economía de la Energía de la Universidad Santa María. Fue presidente y miembro del directorio del CDEC-SIC y desde 2018 es Presidente del Consejo Directivo del Coordinador Eléctrico Nacional, el Operador Independiente del Sistema Eléctrico de Chile.
<< Back